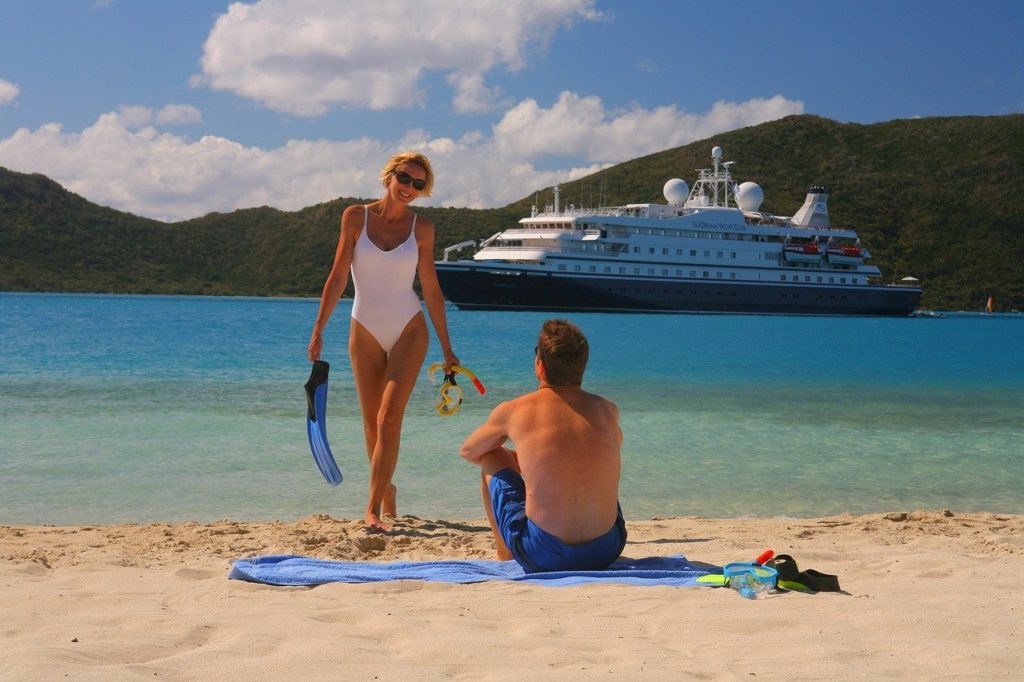 One of the best ways to travel is cruising. You get perks which include intimate ships with a few hundred or so people, breathtaking destination routes, and impeccable service tailored just for you. Of course, it'll cost you but the adventure is unparalleled when you sail with the best cruise lines.
U.S. News and World Report ranked the seven best luxury cruise lines according to ambiance, amenities, activities, price class, and approval ratings from experts and travelers.
If you want to get some lower prices, try using http://bit.ly/VivTravelDeals. No guarantees, but this site usually has better deals than any other travel site we have come across.
Viking Ocean Cruises
Only five years since it made its way to the ocean cruising market, Viking Cruises has already earned praise for its luxury ships. Viking Ocean Cruises' destination-focused tours appeal to adults whose interest is to learn the culture and history of their travel destinations.
Attractive perks include cabins with verandas, ship-wide Wi-Fi access, and complimentary shore tour at every port of call. Sweet!
The downside is, the cruise lines don't offer programs for children, prices are high year-round, and 2020 itineraries have a minimum of eight nights.
Seabourn Cruise Line
This cruise line takes pride in its cruise experiences being the cream of the crop. Accommodating to about 400 to 600 guests, its five ships boast of luxurious amenities. Seabourn Cruise Line sails all around the world, cruising in the Caribbean, Alaska, and the Mediterranean as well as in Asia, Australia, and Antarctica.
The bright side to this cruise line is that accommodations are all suites with stunning ocean sights. Additionally, the fare is inclusive of onboard dining and beverages, and fitness classes and activities on board are complimentary.
However, they have strict rules on dress codes, no programs or services for children, and cruise fares are high year-round.
Crystal Cruises
What separates Crystal Cruises from other luxury lines is its low passenger-to-crew ratio, allowing more personalized services. Sailing all over the globe, its cruises last from four to 139 nights with itineraries covering the Caribbean, Asia, and Europe.
One of the best things about Crystal Cruises is that the cruise fare is inclusive of most of the onboard activities, beverages, and meals. Besides, children aged 17 and younger have a discounted rate or may sail for free! Plus, you'll automatically become a member of the Crystal Society and avail perks such as upgrades and discounts after completing a five-day cruise or longer.
Unfortunately, the cruise fare is exclusive of spa and laundry services, shore excursions, and port and security fees as well as baggage handling fees.
Regent Seven Seas Cruises
With its all-inclusive luxury service, Regent Seven Seas Cruises received high rating approvals from travelers as well as experts. Its five ships boast of all-suite accommodations and welcoming, attentive crew members.
Guests can enjoy the complimentary shore excursions, culinary tours, and the varied activities on board.
Its all-inclusive fare includes the round-trip plane fare and ground transfers as well as specialty dining, beverages, and shore excursions. Passengers can also have access to free Wi-Fi.
Meanwhile, cruises are costly year-round and some onboard offerings like spa services are exclusive of the fare. There are also limited amenities and entertainment for children.
Azamara Club Cruises
Azamara Club Cruises is highly praised for its classy cabins and voyages to remote destinations. Its 700-capacity ships have a ratio of one crew member to two guests. The cruise line offers a three-night cruise, which is the shortest and the longest lasts for 26 nights. There are onboard fitness center, casino, and dance and musical performances to entertain guests during the voyage.
One of the high points of the Azamara Club Cruises is its service. There is butler service for all suites as well as attendants who will help you with unpacking your luggage for you by request. Cruise prices are also inclusive of staff gratuities so there's no worry about tipping. They also offer AzAmazing Evenings on every voyage, which takes advantage of Azamara's many late-night and overnight stay at ports.
On the other hand, this cruise line only offers luxury cruises and are expensive year-round. There are no shore excursions offered except when you avail the AzAmazing Evenings and onboard activities are limited.
Oceania Cruises
The six ships of Oceania Cruises pride themselves on their excellence in passenger service, gourmet dining, and clear and concise itineraries. Oceania's shore excursions are just as diverse as its sailings and guests can entertain themselves with a wide range of activities like glacier adventures and vineyard hopping.
Passengers who would choose to sail with Oceania Cruises can have chances to unusual travel destinations. They also have a wide-ranging selection of gourmet restaurants to choose from which are ideal for foodies. Guests can also receive certain benefits through the Oceania Club loyalty program.
However, certain onboard services are exclusive of the cruise fare, and there are no amenities or programming provided for children.
Silversea Cruises
Silversea Cruises stand out from other luxury liners with their large suites, gourmet food, and onboard events. They have several facilities onboard like pools, fitness centers, spas, theatres, and casinos plus enrichment programs from expert guides.
A plus sailing with Silversea Cruises is their voyages to remote destinations, suite accommodations that offer the view of the ocean, and open-seating dining that caters meals you prefer.
Unfortunately, cruise fares are expensive year-round and exclusive of some onboard events, and there are no events for children or teens. Hmm, not quite family-friendly.
So, which luxury cruise line is the best one for you? It will depend on which onboard activities, amenities, or shore excursions you'll be interested on.